REVIEWS, PRESS AND AWARDS
We have won the Trivago award for best 3* hotel in the Netherlands! That means the sweetest, kindest, loveliest, most fun and beautiful guests stayed with us. Thank you so much travelers, business people, city trippers, party-goers, scientists and romantics for your reviews. Pour yourself a drink tonight and cheers to you!
The Michelin guide says: "Some hotels just have IT, and Mary K is one of them. We run out of words trying to describe the interior of this modern hotel. To name some: fresh, playful and a little quirky. You are guaranteed to go home with some great ideas for your own home decor."
Where to sleep according to the Washington Post: "Mary K Hotel: Artsy, unpretentious, historic hotel overlooking the canal, with cellar patio at water level."
Playboy says: "If you can't get your girl into the right mood here, you're on your own."
The Lonely Planet: 'top choice' hotel. "A bevy of Utrecht artists decorated the rooms at this ideally situated canal house."
De Standaard (newspaper Belgium) says: "Not luxury ór sustainable, but both. Old, new, borrowed and homely, all mixed together. Ánd on a great spot and run with love. Why are you not on your way yet?"
Tripadvisor awarded us with a Travellers' Choice™ Award in 2015, 2016, 2019 and 2020 ! in the category Best Service and Romantic hotels. Only 25 hotels in the Nederlands get this award per category. We also recieved a "certificate of Excellence" the last 7 years in a row now. With this we are part of the top 1% hotels of the world.
We are so proud and grateful for all of you who take the time to write about us! A couple of Tripadvisor reviews titels:
"Stop looking and book this NOW!!! You will not find a better place to stay than this perfect gem"
"Best hotel in town, maybe in the country. "
"Outstanding. Luxury at its best."
"Beautiful Sustainable Retreat"
From Hotels.com we recieved a Gold Award with a score of 4.9 out of 5 based on our guest reviews. This means a shared number 1 place for all hotels on hotels.com in the Netherlands. Plus the 'Loved by guest, Most wanted Award 2020'!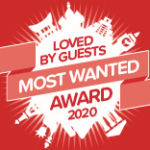 And recently HotelsCombined completed the largest analysis of guest opinions worldwide. And awarded the Mary K Hotel a 9.9 out of 10, and with that the following award:
2020
RECOGNITION OF EXCELLENCE
Mary K Hotel
HotelsCombined